Nobuo Uematsu was born on March 21, 1959, in Kochi, Kochi Prefecture, Japan. He started to play music at the age of twelve. He taught himself how to play the piano. He started his professional career writing music for commercials after graduating from Kanagawa University. He joined Square Co., Ltd. in 1986 and began composing music for video games. He parted ways with Square, in 2004. For those eighteen years Uematsu composed the music for over thirty games including, most notably, the Final Fantasy series, the first two SaGa games, and some of Chrono Trigger. In 2004, Uematsu founded Smile Please, Ltd. and still composes video game music, as well as organizes live performances of his work.
In addition to writing video game music, Uematsu also wrote the theme song for the anime Oh My Goddess! and for top Japanese singers Emiko Shiratori and Rikki. He also has written a column for Weekly Famitsu magazine called "Nobuo Uematsu no Minna Sounano?" for several years.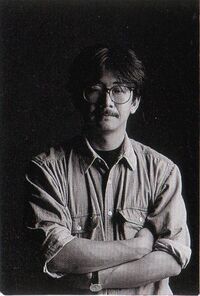 The Final Fantasy VIII theme song, "Eyes on Me", which he wrote and produced for Hong Kong pop diva Faye Wong, sold a record breaking 400,000 copies. It also won "Song of the Year (Western Music)" at the 14th Annual Japan Gold Disc Awards in 1999. This was the first time a song from a video game had ever won the honor. He also received the honor of being named an "innovator" in Time Magazine's "Time 100: The Next Wave – Music".
A series of successful concert performances were held in Japan, including a Final Fantasy concert series titled Tour de Japon. The first stateside concert, Dear Friends – Music from Final Fantasy, debuted on May 10, 2004 at the Walt Disney Concert Hall in Los Angeles, California, and was performed by the Los Angeles Philharmonic orchestra and the Los Angeles Master Chorale. It was conducted by Fort Worth Symphony Orchestra director Migule Harth-Bedoya. Due to a positive reception, a concert series for North America followed. On May 16, 2005, a follow-up concert called More Friends: Music from Final Fantasy was performed in Los Angeles at the Gibson Amphitheater; the concert was conducted by Grammy Award-winning Arnie Roth.
In May 2010, a new Nobuo Uematsu piano album was announced, featuring some of his works played by classical pianist Benyamin Nuss. It was released on September 17, 2010, and was the first time a major classical label commemorated video game music.
Learn a litte more about Nobuo — > http://www.nobuouematsu.com/disc.html